This is an Urban Sectorial report carried out at Avenida Almirante Reis, in Lisbon, Portugal.
Coolhunting

was the main chosen methodology in order to collect signals that help to identify the region's multiculturalism; 
Desk Research

with investigation in social networks, articles about the region, internet archives on Freguesia de Arroios and publications of the Chamber of Lisbon;
Observation No-Participatory

in Next Stop event, Largo Residências, Casa Independente, Mezze restaurant, Arroios Market, Forno de Tijolo market. In addition, technical visits and interviews with local residents and workers;
Surrealist Roam

by Iris Lab on Av. Almirante Reis, from its beginning (Martim Moniz) to the end (Alameda), with the aim of capturing signals relevant to the research that conveyed the spirit of the avenue.
Full content reserved. Got interested? Drop me a line!
• • •
Este é um relatório Setorial Urbano realizado na Avenida Almirante Reis, em Lisboa, Portugal.
Entre as metodologias utilizadas, estão o 

Coolhunting

com o objetivo de captar sinais que identificassem a multiculturalidade da região; 
Desk Research

com pesquisa em redes sociais, artigos sobre a região, arquivos da internet sobre a Freguesia de Arroios e publicações da Câmara de Lisboa; 
Observação Não-Participativa

no evento Next Stop, no Largo Residências, na Casa Independente, no restaurante Mezze, no Mercado de Arroios, no mercado Forno de Tijolo, além de

visitas técnicas e entrevistas

com moradores e trabalhadores do local; 
Deambulação Surrealista

pela Iris Lab na Av. Almirante Reis, do seu início (Martim Moniz) ao fim (Alameda), com o objetivo de captar sinais relevantes à pesquisa que transmitissem o espírito da avenida.
A íntegra do conteúdo encontra-se reservada. Ficou interessado(a)? Entre em contato.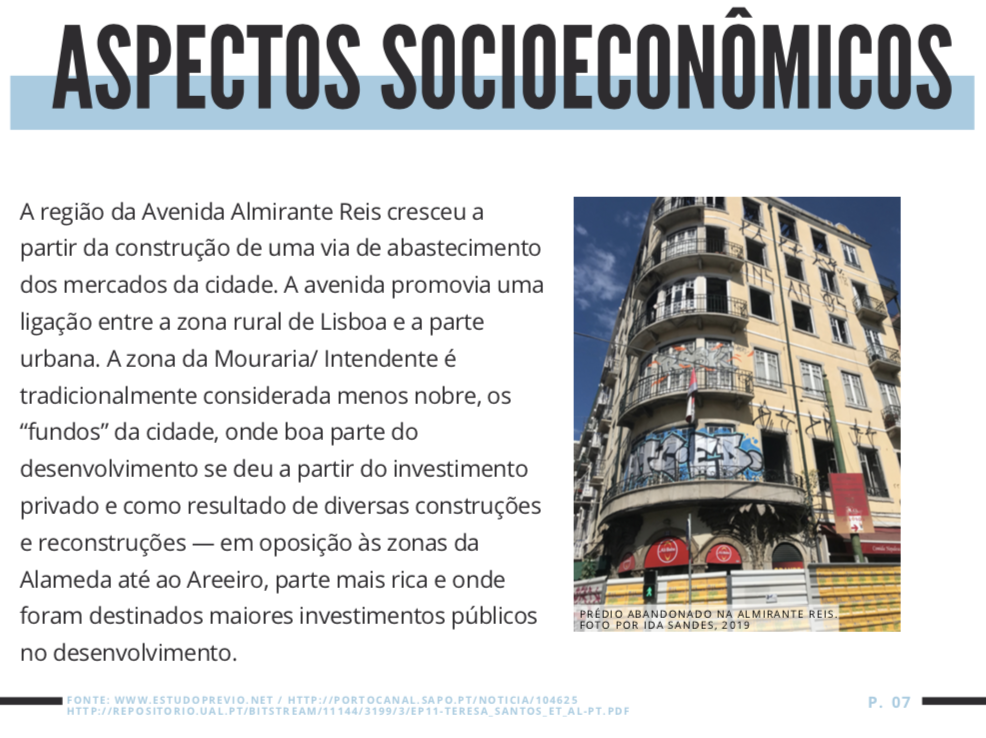 This report, carried out in May 2019, is the result of the Laboratory of Research and Professional Practices in Trends, Communication and Branding of the Faculty of Letters of the University of Lisbon.
Este relatório, realizado em maio de 2019, é fruto do Laboratório de Pesquisa e Práticas profissionais em Tendências, Comunicação e Branding da Faculdade de Letras da Universidade de Lisboa. 
 Pesquisas, textos, imagens e edição: Ana Paula Torquato, Gabriela Camargo, Ida Sandes, Isabella Viana, Luana Bistane, Marina Ferriani, Raquel Sodré.